Some business trips create a feeling of anxiety. It can happen by the destination or by the context of the travel.
If you arrive at 11:00 pm in an unknown country, it's natural to be afraid. To minimize all risks, you should be careful.
The most important thing is that you have a good trip and everything runs smoothly. In this way, you can focus 100% on the work.
Let's know some tips to travel more safely.
---
1. Study and understand the destination country context
You should know very well the culture of the destination country. Each country has its own peculiarities.
Nowadays, you will have access to all essential information with an online search. For example, a woman taking a business trip to Dubai should be careful with her clothing. The legs should be covered to the knees, and she should avoid showing her shoulders.
You should also avoid going out alone at night to places that are not considered safe or too isolated.
---
2. Travel only with the essentials
You already know that traveling with a large suitcase is not practical. You lose mobility and flexibility in your movements. Even if you call an Uber, you will always need to move around the airport or climb stairs.
Take only what you need for yourself and your work. Avoid drawing attention and becoming a desirable target for thieves.
---
3. Have your phone charged and ensure the internet connection
You should check with your operator all the network conditions in the destination country. It is important that you can make calls and also have access to the internet.
In this way, you will feel more secure and prepared to deal with any unexpected event. If you have internet, you can with a quick search, solve immediate problems.
You should always travel with a powerbank. Please check also the plugs in your destination to see if you need an adapter.
---
4. Travel with little cash and use only cards when possible
There are already several credit cards that allow you to save on withdrawal and payment fees. You should use a credit card and avoid carrying large amounts of cash.
If in your own country you avoid carrying large amounts of money, you should apply the same rule abroad.
Whenever you need to withdraw from an ATM, choose a busy area.
---
5. Save the emergency numbers
If something happens, it is important to call immediately the Police or even the hotel.
You should create a document with all the emergency numbers.
---
6. Choose RoomsCo to make all your corporate booking
RoomsCo will book the perfect hotel for your business travel at no extra cost. You will know a trustworthy hotel will be waiting for you with all the conditions you have requested.
If something happens, you can get in touch with the RoomsCo team who are available 24/7.
---
7. Take care of your own health and safety
The Covid-19 pandemic changed the world. Nothing is or will remain the same. To ensure your own safety, you should take essential and recommended health care.
Travel with masks, hand sanitizer, and wash your hands often. You should avoid crowded spaces and use contactless cards.
---
These are some of the precautions that help to have a business trip with peace of mind. Your safety always comes first. You should avoid problems so you can always focus on doing the best job possible.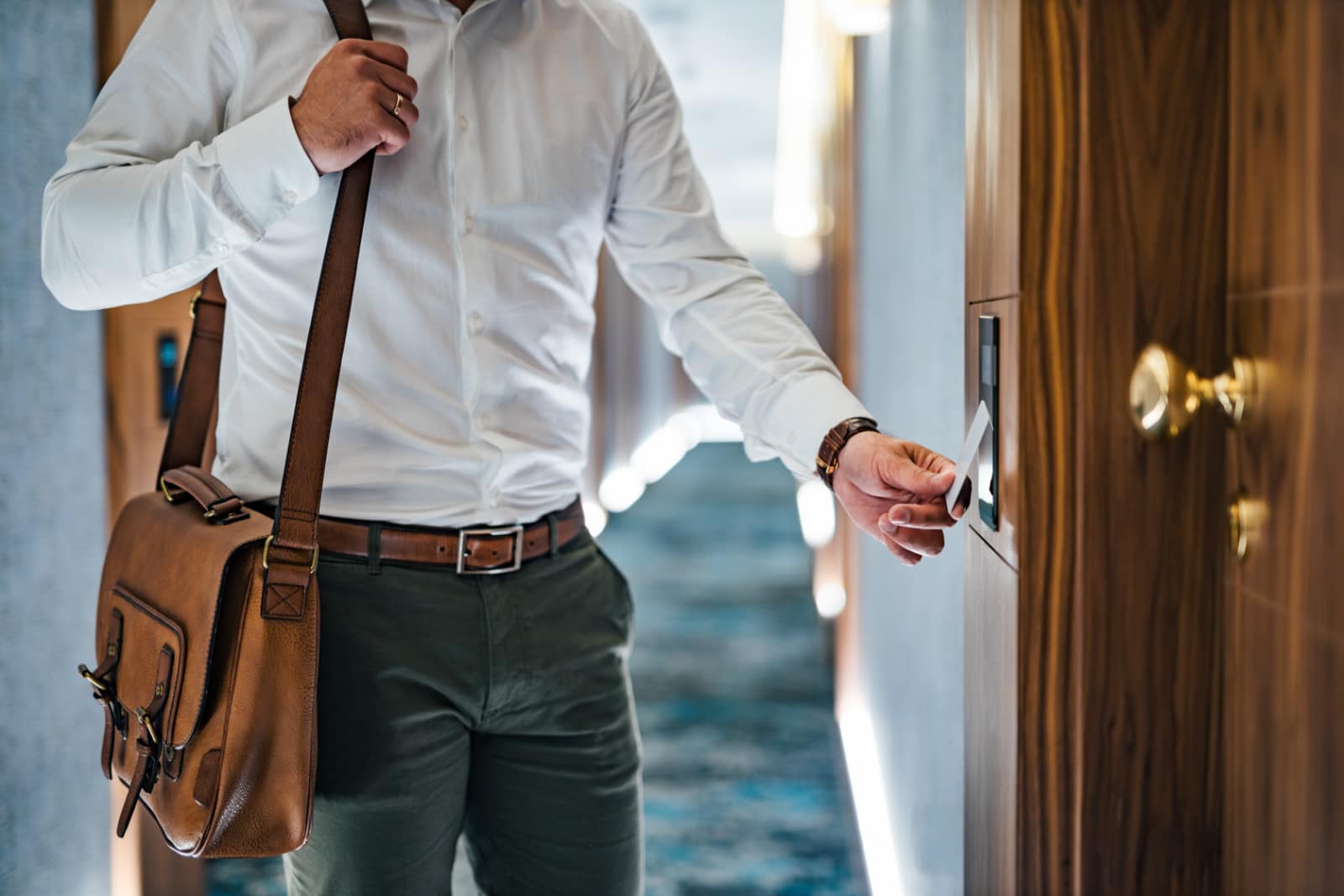 Do you want to save time and money on your corporate bookings?
RoomsCo has a specialized team that will handle the entire corporate booking process. Call us and get a free quote.
— Written by Daniela Espinheira