A successful business trip starts even before you set foot in an airport when you start packing. In these cases, your work and your company are at stake and so it is important to ensure that you pack everything you will need for your trip. If you forget your laptop, for instance, you will have a harder time communicating with clients and colleagues. If you don't pack important documents, you may be jeopardizing your own professional reputation or even your relationship with potential clients. So whether you travel frequently or just go on the occasional work trip, take advantage of our packing checklist so you will always be ready for your next trip.
---
Everything you need to pack for your next business trip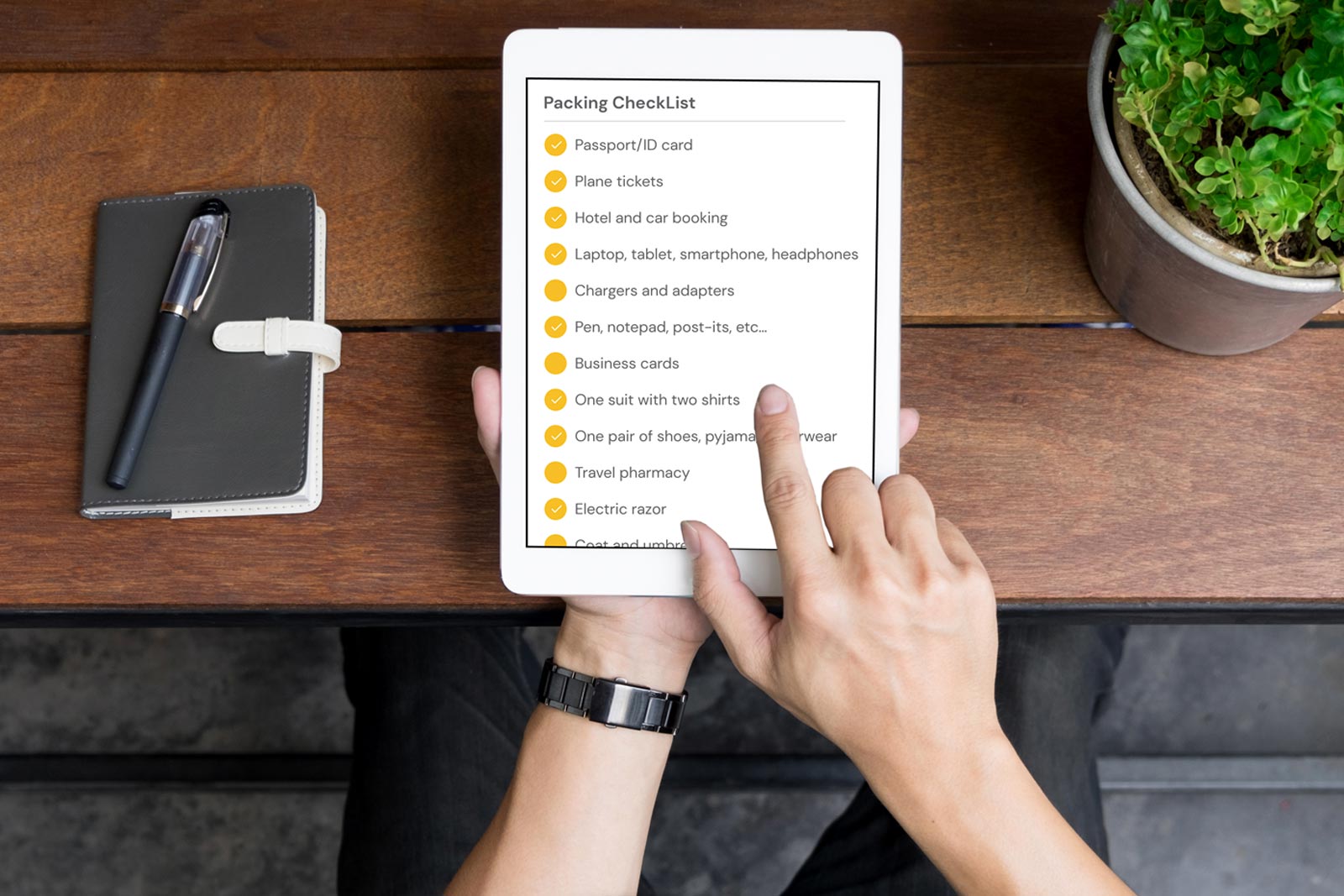 Travel documents
Whatever your final destination may be, you won't get very far without your personal documents. For national trips or travel within the Schengen Area, European citizens will just need their national ID. For other destinations abroad, don't forget your passport and – in some cases – your international vaccination certificates. In addition to that, keep your plane tickets, hotel booking confirmation, and car rental details in one place so it will be easier for you to find them when you need them.
Electronics
With our lives increasingly online, it is almost impossible to spend a workday without using any electronic equipment. In addition to your smartphone (which is always a must), there may be other equipment that can help you be more productive on your next trip.
Whether it be to review a presentation or take some notes, having a laptop or tablet with you is one of the best ways to make every minute count while traveling. For your down time, you can also consider packing an e-reader to read some of your favorite books.
And don't forget the essential accessories: chargers for everything and a pair of comfortable headphones for the journey. If you need adapters, try to purchase them ahead of time to avoid wasting more time and money at the airport.
Office supplies
When you are travelling for work, you will need to bring a few essential supplies with you: pens, a notepad, paper clips, post-it notes, business cards, printed documents, folders… While you don't need to bring your entire office with you, consider the goal of your trip and pack the supplies you will need to do your job in the most efficient way.
If you will be getting reimbursed for expenses during your stay by your company, pack an envelope to keep all the receipts you will need to submit upon your return.
Clothing
On a business trip, it is important to pack the right clothes for the job and the specific conditions of your final destination. To keep your carry-on light, choose simple outfit combinations that you can easily mix and match. Always keep in mind the weather at your destination and try to anticipate if you will need extras like an umbrella or a warmer coat. Finally, don't forget to pack a more comfortable outfit for your travel days.
Toiletries
Even though most hotels nowadays offer small bottles of shampoo and shower gel, there are many more products you will need to be at your best on a corporate trip. So think of the products you use most often in your day-to-day (toothpaste, body lotion, makeup, electric razor, deodorant, perfume or cologne, etc.) and place them in smaller containers to pack for your trip. If you will be flying to your destination, don't forget to check the limits on liquids that you can take in a carry-on and pack everything in a see-through plastic bag.
Medication
It's better to be safe than sorry and, when it comes to medication, the saying couldn't be more true. But don't worry about packing every pill you can find. Simply make a travel pharmacy kit with the essentials: painkillers for those pesky headaches, stomach meds, band-aids, and a vitamin supplement will do. And don't forget to pack any additional medication you may take on a regular basis plus anything specific you will need considering your final destination.
---
Does your company have a highly mobile team? RoomsCo can help you manage your bookings so that your staff have a more productive and safer trip. Contact us for a free quote.
---
— Written by Inês Pinto
---