In plain 21st century, new technology pervades all sectors and industries in the economy. These new technologies have created opportunities for companies and consumers alike, allowing for a closer connection with increased safety and at a greater distance.
For corporate travelers, the integration of these new technologies in the tourism industry has been crucial to creating an increasingly seamless experience allowing them to save time and increase productivity while traveling.
Stay up to date on the latest tech developments in the industry and learn more about what the airports of the future will look like.
---
The impact of the pandemic
We had already been witnessing the integration of new technologies in airports in recent years – automatic check-in terminals and airport apps with information on arrivals and departures were some of the first players on the scene.
However, similarly to many other industries, the COVID-19 pandemic accelerated the digitalization strategies at airports. With the goal of making airports safer places and regaining travelers' trust, many airports started adopting contactless technology to minimize the risk of infection and improve the overall travel experience.
For this reason, we have seen many airports – particularly in the Asian continent – starting to test all kinds of contactless technology from infrared scanners to voice control technology, QR codes, cleaning robots, and mobile apps with more advanced functionality.
Transitioning to a zero-touch environment
Airports are, by definition, high touch point environments. In addition to check-in and baggage drop-off desks as well as airport security, airports offer a plethora of opportunities for travelers to acquire additional services and products – which, up until now, has meant more face-to-face interaction. Whether you want to upgrade your plane seat or do some duty-free shopping before boarding, all these moments have required travelers to interact with airline representatives and airport employees.
At a time where travelers' health and safety are top priority, contactless technologies are becoming more common and bring new benefits like greater ease of payments and a more seamless travel experience.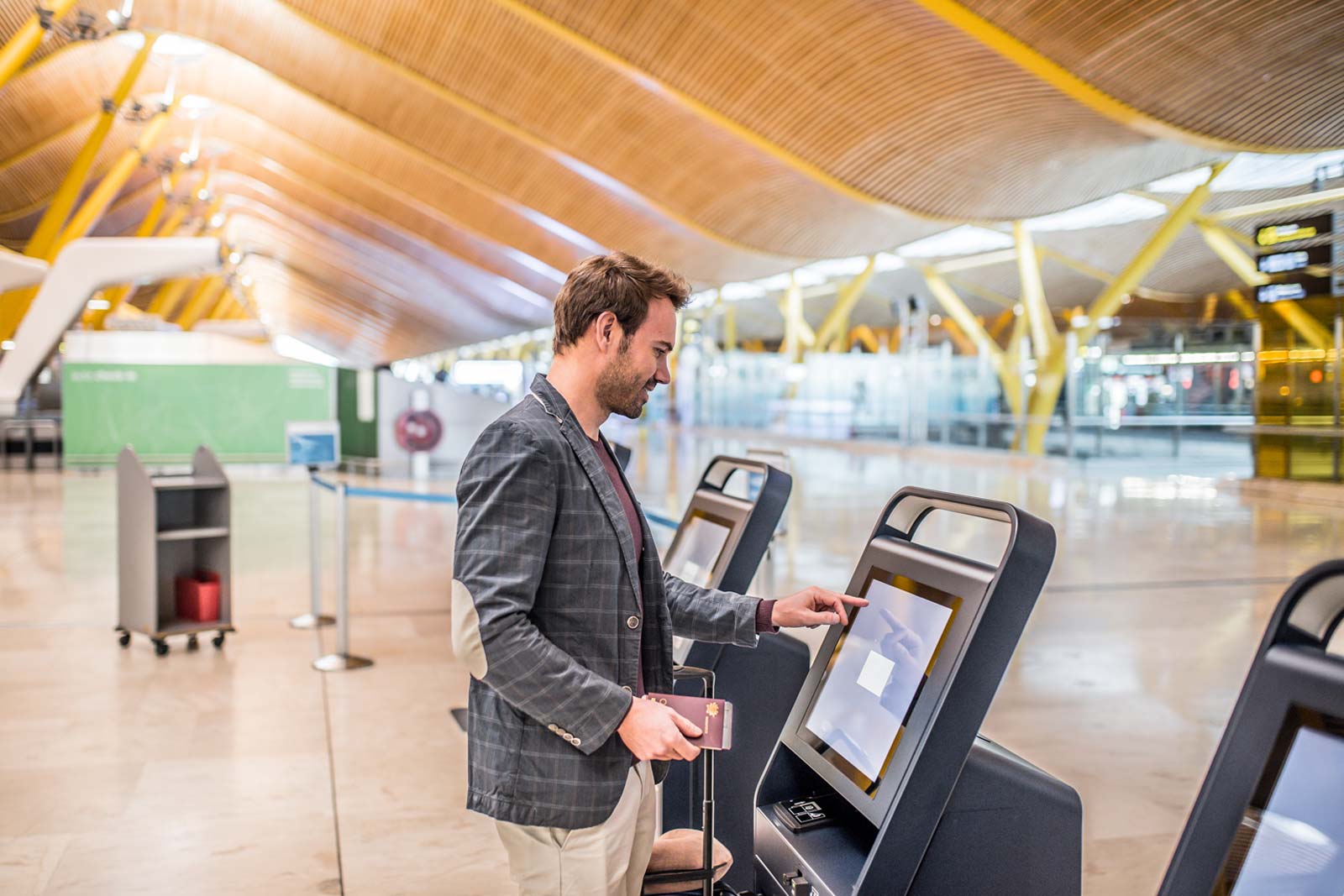 An opportunity for airlines
The inclusion of these new technologies at airports also presents a unique opportunity for airlines who are ready to embrace this change.
In a zero-touch ecosystem, airlines can be in contact with their clients from the moment they arrive at the airport – or even before then – by developing their own mobile apps and self-service payment terminals. And this is where the opportunity arises.
In its most recent study – Power Your Payments – FIS Global concluded that around 51% of travelers are willing to purchase ancillary services from an airline. But the same study found that this type of purchase is heavily reliant on ease and convenience for the consumer. For example, 35% of travelers stated that they would upgrade their seat on the plane if they could do so from the check-in desk instead of having to walk over to a separate upgrades desk.
The advantage of self-service technology is that it is accessible from any mobile device – making the integration of ancillary services (like airport transfers and duty-free shopping) simple and convenient. With a mobile app, travelers can plan their entire trip and make all their payments from one single point of contact that is controlled by the airline.
Managing expectations
There is no doubt that convenience and ease in service provision are intrinsically connected to consumer satisfaction. But what one traveler considers convenient may be another traveler's worst nightmare.
When it comes to payment preferences, for instance, the same report by FIS Global found that these vary considerably by age, type of purchase, and even country.
In this sense, and while the trend towards digitalizing the traveler experience at airports continues to grow, it is important to continue to provide alternatives (such as payment with debit or credit cards and information desks with airline and airport representatives) to ensure a pleasant experience for all travelers.
---
With over 7 years' experience in corporate travel management, RoomsCo has kept up with the technological developments in the industry to offer our clients a seamless and efficient experience to manage their accommodation bookings. Contact us to learn more about the tech that powers our services.
---
— Written by Inês Pinto
---